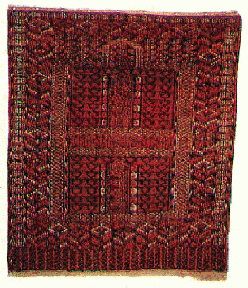 A PRIMER ON CONNECTIVE GEOMETRY
Space, we now understand, is not an isolated collection of objects related in a simple Cartesian matrix. Rather, it is a rich 4-dimensional field that includes time and process.
The constituents of this vast structural field have been described in a number of ways by physicists and philosophers. (See for example A.N. Whitehead, Process and Reality.) The architect and physicist Christopher Alexander has developed a theoretical framework in which these constituents can be described as "centres."
Such centres form regions that are amplified by other regions, forming perimeter fields with respect to the centres. This system of centres is embedded in still-larger systems of centres, with both hierarchical and network aspects. Each centre is in fact embedded in the totality of all centres, but with diminishing contextual influences.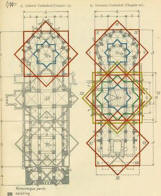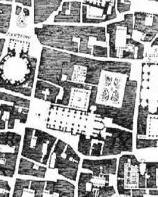 A simple system of centres - A much more complex system -
a cathedral plan the urban fabric of Rome
Process is central to the understanding of how such centres are formed, and transformed. The key process is what Alexander calls a "structure-preserving transformation." (Mathematicians call this transformation "symmetry-preserving," and they refer to its counterpoint as "symmetry-breaking.")
The formation and transformation of centres results in a characteristic set of properties that are familiar to designers. They are structures that resonate deeply with human experience. The perception of such underlying order, in fact, gives rise to the human experience of beauty.
Seen this way, beauty is less a "constructed" personal experience, and more a kind of symmetrical interaction between the person and the larger structure of things. It is not, therefore, a purely "subjective" phenomenon, but can be discussed and developed as a collective art. It is, above all, a perception of natural order.
Alexander identifies 15 such properties, discussed in great detail in his new book, The Nature of Order. We can summarise them here as follows:
15 PROPERTIES OF CENTRE FORMATION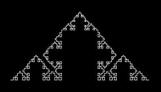 1 Levels of Scale 2. Strong Centres 3. Boundaries



4. Alternating Repetition 5. Positive Space 6. Good Shape



7. Local Symmetries 8. Deep Interlock 9. Contrast
and Ambiguity



10. Gradients 11. Roughness 12. Echoes



13. The Void 14. Simplicity and 15. Not Separateness
Inner Calm
The crucial point to grasp is that such a structure of centres forms a vastly complex connective network in space. Beyond any symbolic meaning, this structure embodies real connective symmetries. It does so through the exceedingly complex patterns of interactions between its constituents -- its centres. This greater complexity arises is in spite of the fact that the steps of transformation can be deceptively simple.
Thus this very real connective structure carries real and definable (and discussable) attributes. For example, one can vary the degree of connectivity, and the density of centres. In so doing, Alexander argues, one affects the very life of the structure.
Alexander's aim is that architects and others can use these insights to structure networks of centres into more potent classes of connective geometry -- more beautiful, more coherent human environments. This offers the ability to create a much richer kind of order in the built environment of the future.
Following are examples of new dwelling structures that contain elements of these richly connective classes of geometry.
Homes in North Africa